Renat Zubayrov
How To: Customer Health Score
It's stunning how different companies I spoke to the last couple of weeks calculate Customer Health Score. It is very interesting to see which KPIs are used and what is the rationale behind them. In the following weeks, I'll do a series of posts that will highlight some key elements of a good Customer Health Score. Before getting into it let me define what I understand under "Customer Health Score".
Customer Health Score - it's a metric that expresses the health of the customer relationship. It is used as a leading indicator of customer retention (or churn). It can be expressed as a simple red-yellow-green or a scale, e.g. from 0 to 100. It plays an important role in the prioritization of Customer Success efforts as well as churn & expansion forecasting.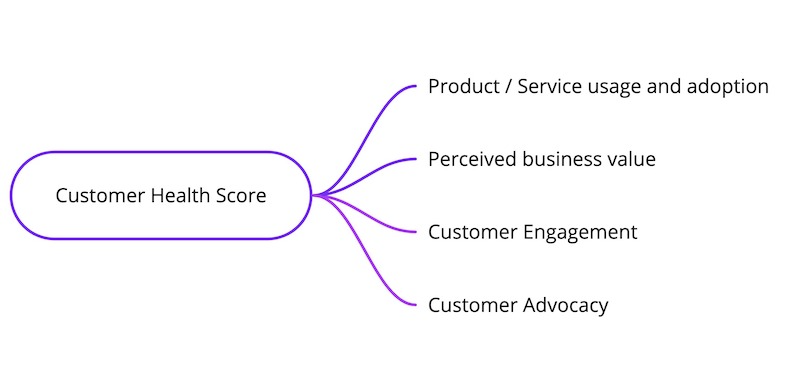 The good customer health score is calculated on top of the different metrics that could be divided into the following main categories:
Product / Service usage and adoption
Perceived business value
Customer Engagement
Customer Advocacy
Product / Service Usage and Adoption
Product (or Service) usage and adoption are one of the primary and most obvious metrics for customer health and the strength of the customer relationship. These metrics we could split into two types - usage breadth and usage depth.
For example, in the case of a B2B Online / Software as a Service tool, we can assess the 'health' by the number of active users that are using our product within a single organization (breadth of adoption) and by the degree of how far the functionality of the product is used by each user (usage depth).
In the case of the professional services agency, the same logic can be applied. Depth can be measured by the number of people involved in the customer project where breadth is the number of people directly exposed to a customer.
Both of these metrics assed at any given moment can give a good basis for comparing customer relationships between accounts, however, the full potential of these metrics can only be visible when tracking these over time and monitoring changes of these metrics continuously.
Perceived Business Value
The business value that customers are receiving from using a product or service is a basic value of customer health and the best predictor for retention (or churn). Unfortunately, automated assessment of business value can rarely be fully automated, especially taking into account that business value can vary significantly in different phases of the customer lifecycle. For example in the initial phases of the customer relationship, during customer onboarding, customer business value can be minimal, or even negative (e.g. training, integration, or rollout phase).
So what to do if an automated collection of events proxying business value is too complex or impossible? In this case, one could fall back to semi-automated, but a consistent and continuous, assessment of business value by gathering sentiment/estimates from Customer Success Managers, Account Managers, or Sales Engineers. Such assessment should be supported by very detailed scoring criteria to avoid subjective biases. So that if customer business value is marked as 'green' everyone knows what 'green' means.
One interesting aspect, or rather a hidden gem of a good customer health score model is the duration of the onboarding phase in the customer lifecycle. I would strongly advise that you precisely track and monitor the onboarding time for each customer because, as shown in many scenarios, delayed time to value may have a long-term effect on customer relationships and one of the strongest correlations with churn probability hence customer lifetime value.
Customer Engagement
Customer Engagement is another important indicator of customer health that can give an early indication of churn. Products and services are sold and bought by people, by individuals. The constant and engaged communication between individuals on both sides is an essential part of value creation. For your health score, you should precisely and methodically plan and track various touchpoints such as Quarterly Business Reviews (or better named as Value Reviews), in-person visits, training sessions, attendance of webinars, user conferences, user communities, product advisory boards, etc. It is also very important to understand the dynamics of the communication, see for example a nice scoring example from ClientSuccess below.

Another good proxy KPI of customer engagement can be concluded based on the customer support data. The number of open tickets, their priority, severity, duration, escalations can be used for health score calculation.
Customer Advocacy
Customer advocacy and Loyalty is the last piece of the customer health score puzzle. Automatic tracking of some of the loyalty and advocacy metrics is easy whereas other metrics require additional software and/or processes in place.
A most well-known way to assess loyalty and overall customer satisfaction would be by surveying your users, for example using Net Promoter Score survey (NPS) or customer satisfaction score (CSAT). Where NPS is a de-facto standard, different variations and new versions of it that are (for example assessing how upset a customer would be if the product they were using disappeared) exists.
Another important indicator for customer loyalty is how active your customers are spreading the word about your product. There are multiple ways you should consider enabling your customers to spread the word:
Public Case Studies and/or Testimonials
 - it's hard to underestimate which positive effect a customer case study could bring you as a part of marketing collateral, however, a fact that a customer is ready to participate in such a study is already a strong indicator of loyalty
Reference Calls
 - if a customer is not yet ready for a public case study a 'lighter' version of that could be a participation in the customer reference call with a potential lead or a prospect. Such a call can be very useful in the sales process and a strong indication of loyalty.
Webinars, Podcasts, and Community Engagement
 - are a great way to spread the word that is used more and more frequently nowadays, participation here is another plus point to advocacy and loyalty.
and last but not least 
Reviews
 - platforms like 
G2 Crowd
 or 
Capterra
 are not only a great source of
3rd party data
but also must-have marketing platforms. Contributing a review on that platform is a signal for engagement and advocacy.
Conclusion
The customer health score is a KPI that promises to deliver an objective indication of customer satisfaction and hopefully predict customer churn. There are multiple KPIs that can be used for the calculation of the score from various areas, the overview you can see below: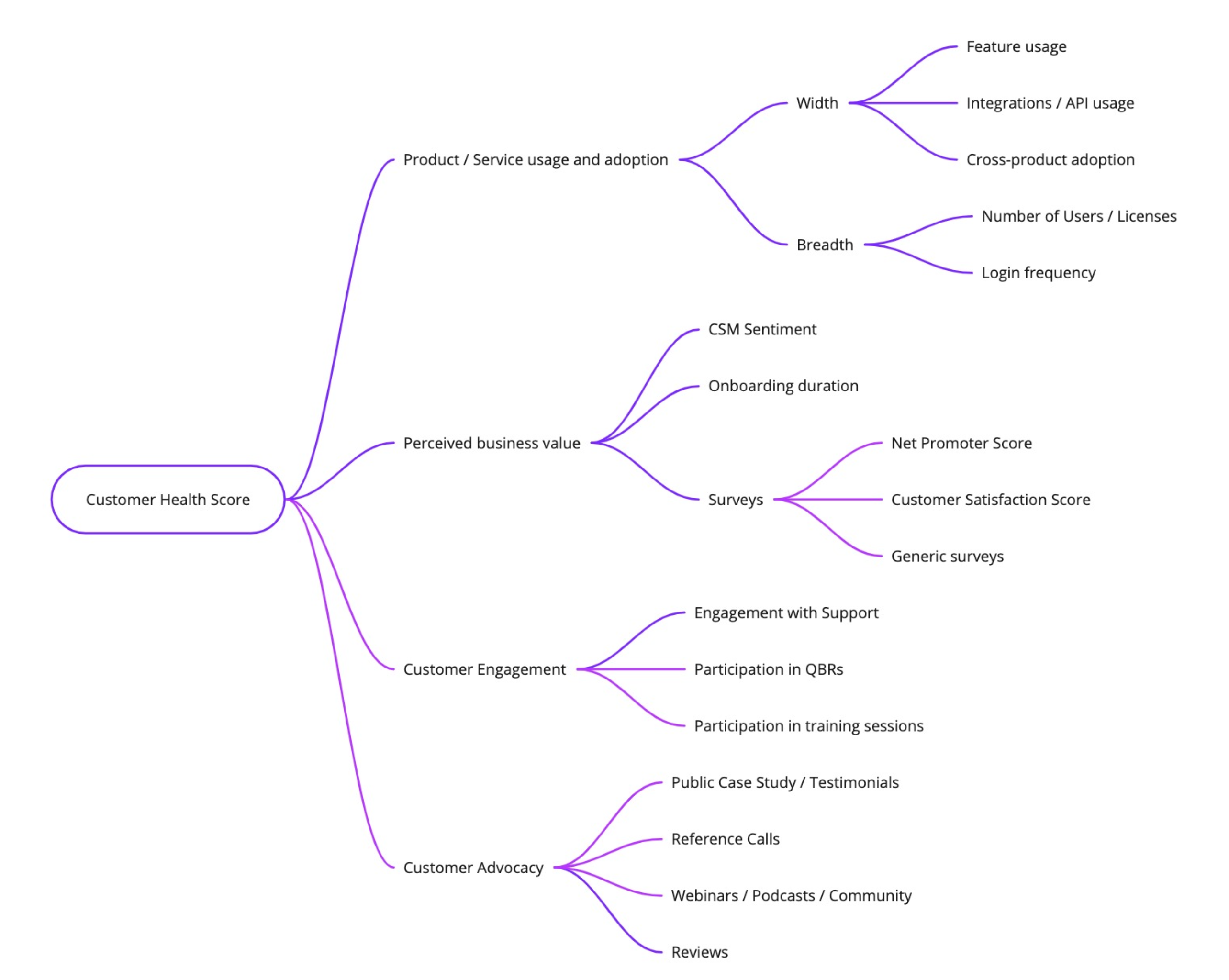 When establishing a health score for your customers you should keep in mind the following:
You should 
segment your customers
 - your health score model will be simpler if you focus on well-defined customer segments. For example, customers on the 'smaller' pricing plan, by definition, may not have access to particular product features, so measuring product adoption should differentiate by available product features.
Keep the 
customer lifecycle
 in mind - the customer health score indicator may be very subjective to the current customer lifecycle. At each stage of a customer journey like proof of concept, onboarding, training, production usage, and advocacy you should carefully consider what is the success KPIs and leading indicators.
Try to keep the health score 
credible and actionable
. The fact that the health score is 'red' or 'yellow' should generate management attention, however, it should also be obvious what improvements needed to be made to improve the score.
Review your health score rules regularly
. For example, at the end of each quarter just analyze which customers with a 'green' score churned (false positives) and which customers with a 'red' score renewed / expanded (false negative). Health scoring is not a one-time exercise but a process. Iterating and adjusting regularly will improve your prediction accuracy and understanding of factors influencing customer health.
Last but not least - 
automate it!
 Collecting data and calculating the health score is something you could do with a simple spreadsheet, however, spending CSM's precious time on that is not only economically inefficient but also lead to lower job satisfaction and higher fluctuation. Moreover, as shown before you should maintain and update your health score on a regular interval, so spending time in automation and using a dedicated scoring technology will significantly simplify this process and reduce maintenance overhead.
If you don't know how to start with the calculation of customer health scores - we at RevOS.ai are building the next generation of a scoring platform that will not only seamlessly connects to the tools you use today but also make the creation and maintenance of customer health score fast and easy. Just reach out to us for a product demo today.
← Go back to blog