Customer Health Scoring:
Prevent customer churn and increase your Customer Success efficiency at scale
Monitor and manage customer health score models that capture every detail from internal and external systems.
Reduce customer churn by acurately predicting which customers are at risk at leaving, allowing you to proactively address their concerns and improve retention at scale.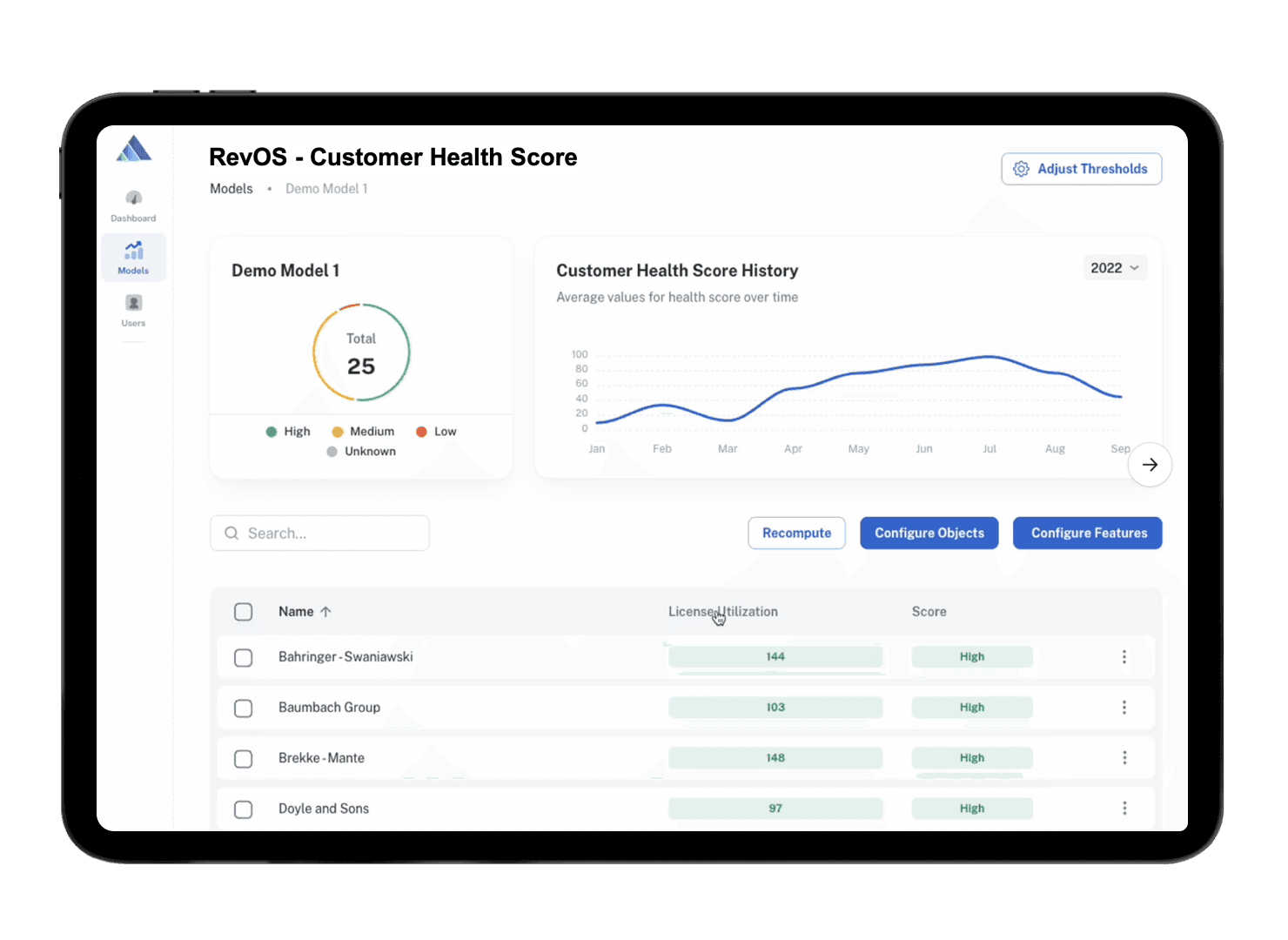 Improved customer retention

By accurately predicting which customers are at risk of churning, companies can proactively address their concerns and improve customer retention.

Automation at scale

Automating the customer health scoring process reduces manual effort and ensures consistent and reliable results.

Proactive alerts

Proactive alerts that bring in the right team members for the job, helping to prevent churn and ensure timely resolution of customer concerns.

Data-driven insights

corporating data from various sources, including CRM, support ticketing software, and product usage data, provides a more holistic view of a customer's health and success.
Improve your sales and marketing efficiency and increase the profitability
Faster Growth

19%

Higher NRR

18%

Higher Pipeline Velocity

25%

Less Chrun

50%
REVOS
Revenue Operation System
The only data integration and automation platform designed for revenue operation
Advanced connectivity

Access data and process analytics across a growing number of connectors to various CRM (Salesforce, HubSpot, Freshsales, MS Dynamics), CSM (Gainsight) and Service Management (Jira, Zendesk) systems

Extensibility

We connect to custom Databases,REST and GraphQL APIs and accept data via WebHooks

Automation

RevOS not only reads and writes but also triggers specific actions in systems across the entire revenue stack.

Reliability

We are 99,99% available and all our integrations respect the API rate limits and play well with existing systems

Security

All communication channels are encrypted and we never share your data with external parties

GDPR Compliant

All your data is processed on servers in Frankfurt, Germany
Ready to optimize your revenue operations?
Maximize the success of your customers and reduce churn by trying out our AI-powered customer health scoring solution today.