Up and Cross-Sell:
Boost your revenue growth by automatically discovering upsell and cross-sell opportunities
State-of-the-art AI technology to identify upsell and cross-sell opportunities for your customers by analyzing your CRM data and integrating internal and external data sources.
Leverage AI predictions to focus your upselling and cross-selling efforts and increase sales without relying on guesswork and lengthy BI projects.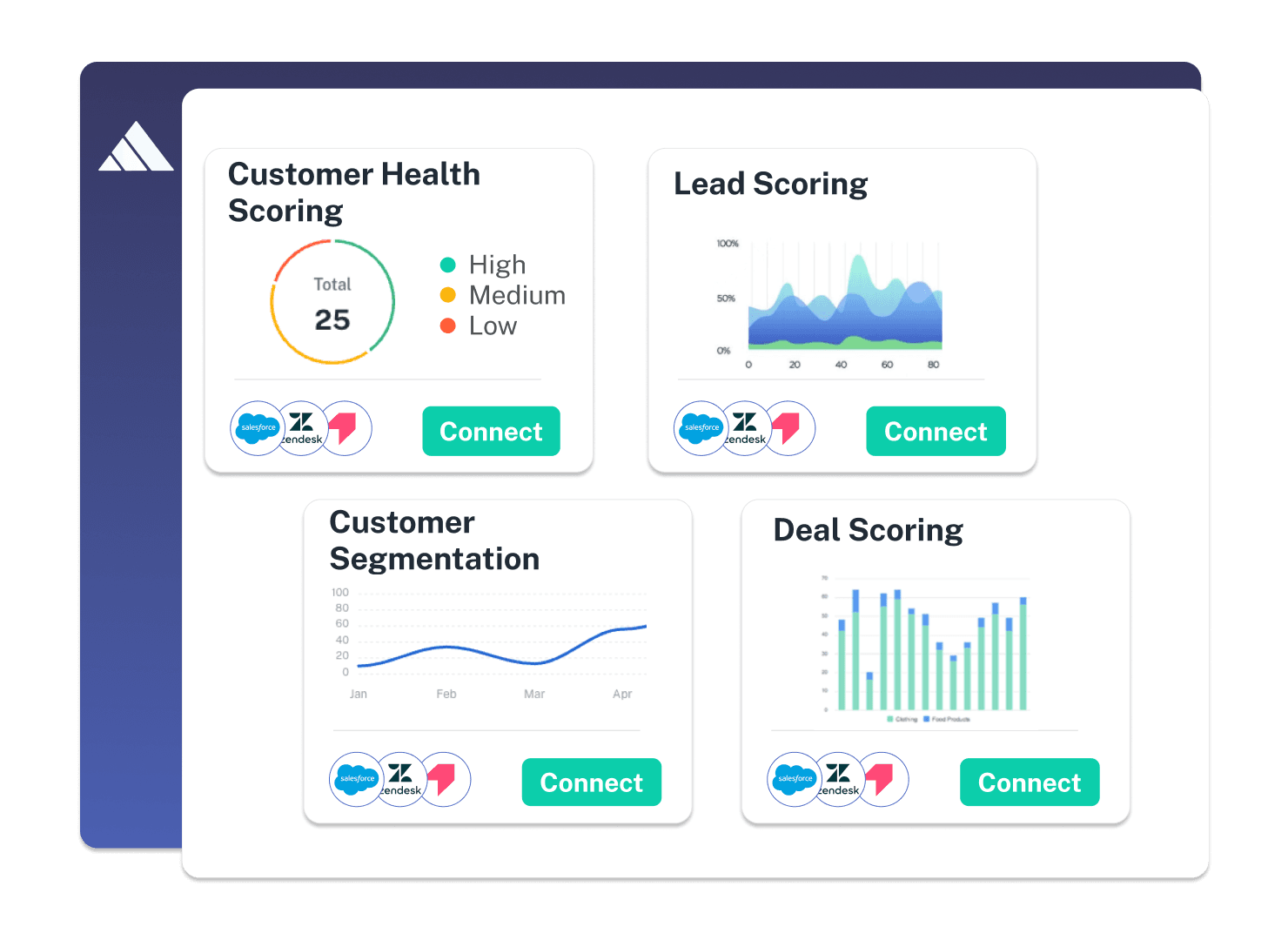 Revenue Growth

Our AI technology is specifically designed to help you increase sales by identifying the most promising up and cross selling opportunities.

Enhanced productivity

By automating the process of identifying up and cross selling opportunities, our solution frees up your sales team to focus on other critical activities, increasing their productivity and efficiency.

Streamlined sales processes

With the ability to analyze customer data at scale, our solution saves your sales team time and resources, allowing them to focus on closing deals and building relationships.

Increased transparency

Better visualizations and analysis of upselling potential at scale are provided by our solution, giving you greater transparency and clarity into your sales processes and customer behavior.
Improve your sales and marketing efficiency and increase the profitability
Faster Growth

19%

Higher NRR

18%

Higher Pipeline Velocity

25%

Less Chrun

50%
REVOS
Revenue Operation System
The only data integration and automation platform designed for revenue operation
Advanced connectivity

Access data and process analytics across a growing number of connectors to various CRM (Salesforce, HubSpot, Freshsales, MS Dynamics), CSM (Gainsight) and Service Management (Jira, Zendesk) systems

Extensibility

We connect to custom Databases,REST and GraphQL APIs and accept data via WebHooks

Automation

RevOS not only reads and writes but also triggers specific actions in systems across the entire revenue stack.

Reliability

We are 99,99% available and all our integrations respect the API rate limits and play well with existing systems

Security

All communication channels are encrypted and we never share your data with external parties

GDPR Compliant

All your data is processed on servers in Frankfurt, Germany
Ready to optimize your revenue operations?
Unlock the full potential of your sales with RevOS's automated up and cross selling solution - start leveraging AI-powered insights today!