Renat Zubayrov
7 Sales and Customer Success KPIs for Your 2023 Plan
A good plan is a foundation of sustainable and predictable growth. Typical B2B organizations spend a considerable amount of time and effort on planning. Especially in tough times, it's crucial to have a realistic and reliable plan. A wrong plan can trigger a death spiral for the entire company. But what are the essential KPIs for a confident forecast?
In this article we are going answer questions:
Basics of top-down and bottom-up planning and why both are important?
Which sales and success metrics are fundamental for reliable planning?
How to use metrics like Churn, Expansion, Pipeline Coverage, Deal Velocity, and many others for reliable planning?
What are the best practices for dashboards, visualizations, and data-driven decisions?
Full video about 7 Sales and Customer Success KPIs for Your 2023 Plan and download a PDF presentation.
Forecasting is complicated and crucial
"Writing Forecasting is like driving at night in the fog. You can only see as far as your headlights, but you can make the whole trip that way,"  E.L. Doctorow.
"93% of sales organizations are unable to forecast end-of-the-quarter revenue within 5 percent, even in the two weeks prior to the end of the quarter," source, study with n=300
Forecasting is essential and really crucial for the performance organization, because obviously when we are making a bad forecasting decision or creating a forecast or plan which is not realistic or actually full faith, we have a lot of ripple effects across the whole organization. So the marketing takes the wrong targets and significantly decreases the performance and channel performance, and you will see higher customer acquisition costs.
If we make a mistake in sales forecasting, then sales have a consequent missing cost and motivation of sales and account executives, which could potentially trigger fluctuation in the revenue plan.
If we're talking about missing forecasting in customer success, it's definitely moving the entire customer success in the organization from the proactive mode, where they perform the best, to reactive mode, where people need to make quick decisions and work tactically with the customer.  Also, they need to work more strategically, which causes the side effect, lower customer satisfaction, and high churn.
If we're talking about wrong forecasting decisions in terms of like headcount or human resources, this could definitely be a significant challenge, causing layoffs and the lower performance of the entire organization.
And last but not least, the sales or revenue forecast in those terms and the potential profitability forecast has an influential challenge for the entire company, because obviously, the sales numbers or revenue growth numbers could hit all KPIs.
Causative-consecutive coordination of forecasting
Marketing:
 Wrong targets → Lower performance → Higher CAC
Sales:
 Missing revenue forecast → Missing quotas → Lower motivation & higher fluctuation
Success: 
Reactive and not Proactive → Lower customer satisfaction → Higher customer churn
Human Resources:
 Over-hiring or missed growth opportunities → Lower team performance → Higher fluctuation
Finance:
Slower and less profitable growth → missed funding opportunities
The side effect will have missing opportunities on the funding side, and on the growth side, and could potentially cause other significant damages to the company. There are two typical ways how we could potentially forecast: top-down and bottom-up forecast.
Top-Down vs. Bottom Up
Top-Down
 - starts planning from high-level goals like revenue growth, profitability, and market-share objectives. They are gradually moved to the lower levels of the organizational hierarchy.
The top-down method answered the question what does the revenue target? What is the market situation? Where we're having to be? What market share we would like to achieve? And then moving from the top numbers to the individual numbers.
Bottom-Up - 
starts with the goal-setting at the lower level of the organizational hierarchy and aggregates it up to the global goals and strategy at higher levels.
This method answers how we could potentially forecast from the bottom from the beginning department level which provides the numbers to a high direction to the strategy. For example, we're starting with customer success departments and we forecast churn from KPI based on customers numbers, we need to move on this forecast up to the organization's hierarchy.
Both of the methods have equal importance, and those need to be done because obviously, the advantage of bottom-up and top-down forecasts is they create an alignment across the organization. Every department knows what is the bigger goal and what part of this goal is in the department.
We present a full list of Top Sales & Customer Success KPIs for planning:
Basic KPIs
1. Quota
Sales Quota
Success aka. ARR per CSM Ratio
2. Pipeline
Quarterly
Coverage
3. Churn
Logo
Revenue
Expansion
Pro KPIs
1. Conversion(s)
2. Pipeline Health
3. Customer Health (Download Free Customer Health Score Template)
+NPS / CSAT
Advanced KPIs
1. Pipeline Velocity
2. Deal Slippage
3. [Everything] realtime
When we're talking about basic KPI for planning, which is essential, we think about the quota used in many B2B organizations, where each account executives have a quota to fulfill and their performance is measured according to the quota.
Simple forecasting can be based on annual quota or we just take the number of account executives and multiply it by the quota they have, and then we come to the revenue number for next year. This is a simple way to estimate, but just one of the first basic KPI gives us the first interpretation of the target.
Customer success is not only a cost structure of successful companies but more like a revenue generation area when we're talking about preventing churn and generating expansion opportunities.
The second part of KPI is the pipeline. We should speak about pipelines assuming historical data, seasonality, and pipeline coverage. The pipeline coverage means how many opportunities we have in the pipeline in relation to the sales quota.
One of the key KPIs for planning the next year you should consider is the different variants of churn. How many customers and active users will churn over the next year or next quarter? The same should be true also for revenue churn.
And last but not least, also we should consider expansion. This is an essential KPI that can be measured based on historical data. Again, taking the seasonality in place and also takes the different performances of different systems in place. It is essential for the planning next year for standardized expansion motion in customer success organization.
The  Pro group of KPIs has high-level concepts like conversions, pipeline health, and customer health.
First of all, what usually can be a good exercise for planning sales forecasts and revenue planning is working with conversions. We should consider different kinds of conversions in the sales funnel like awareness, education, selection, onboarding, activation impact as well as growth and expansion. All of these conversion rates you potentially need to know to make reliable plans for the next year because this will give you a good basis for bottom-up planning of revenue goals.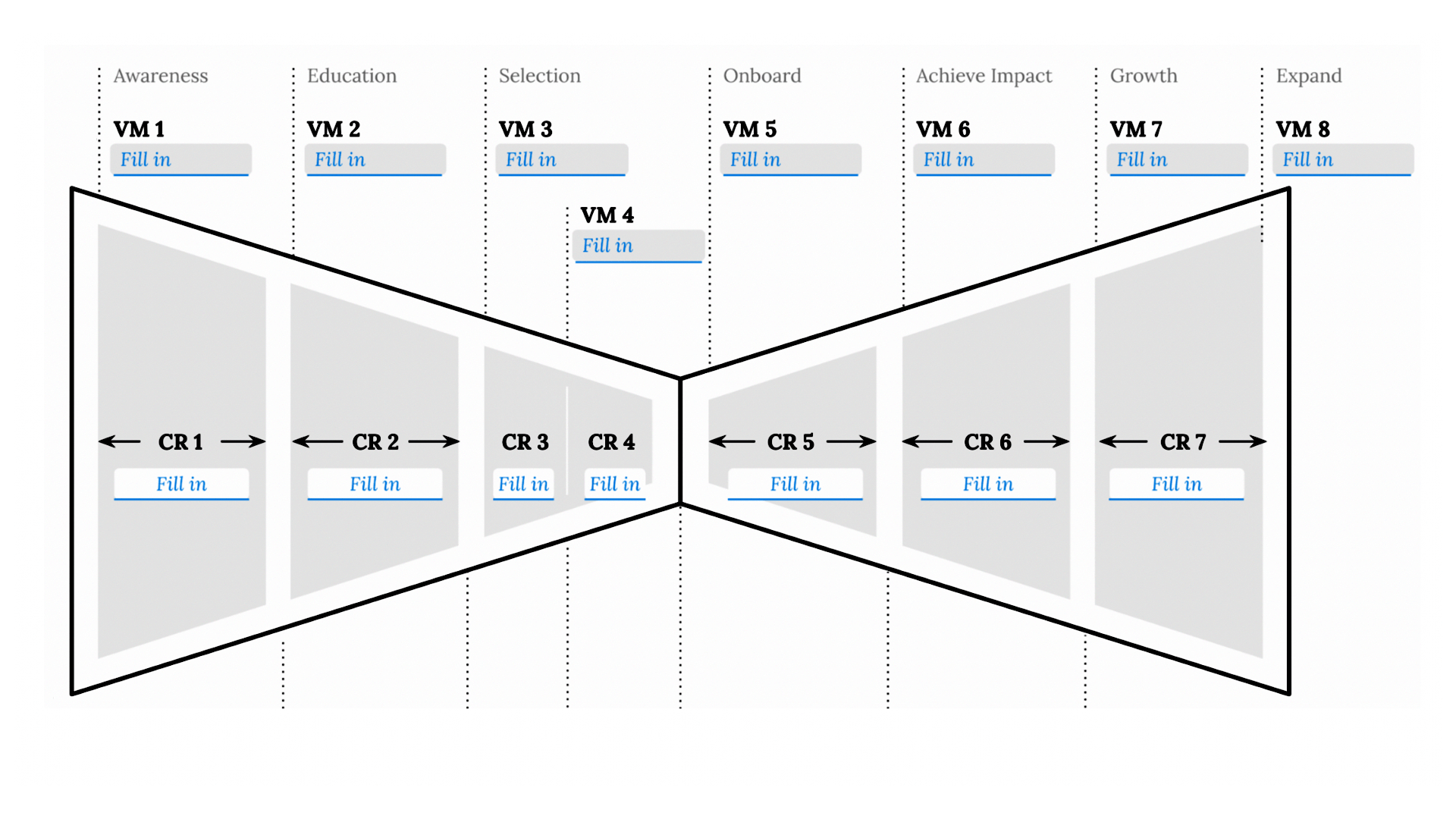 The pipeline health is an activity scoring base for the model for your sales pipeline. It's normal to have different engagement levels for different deals in your pipeline. So, for some of the customers, which are highly engaged with your sales and account executive, you can estimate a faster close rate or faster close time. And by calculating some of the key engagement factors or characteristics about the seniority of people involved in the deal, and other different parameters.
The customer health is a similar characteristic, but more on the customer success area. Customer health can be one of the predictions of customer churn and also be an early indication of a churn or expansion.
One of the additional things which you could use is a customer health scoring template designed by RevOS for calculating or gathering the promoter score, and customer satisfaction score.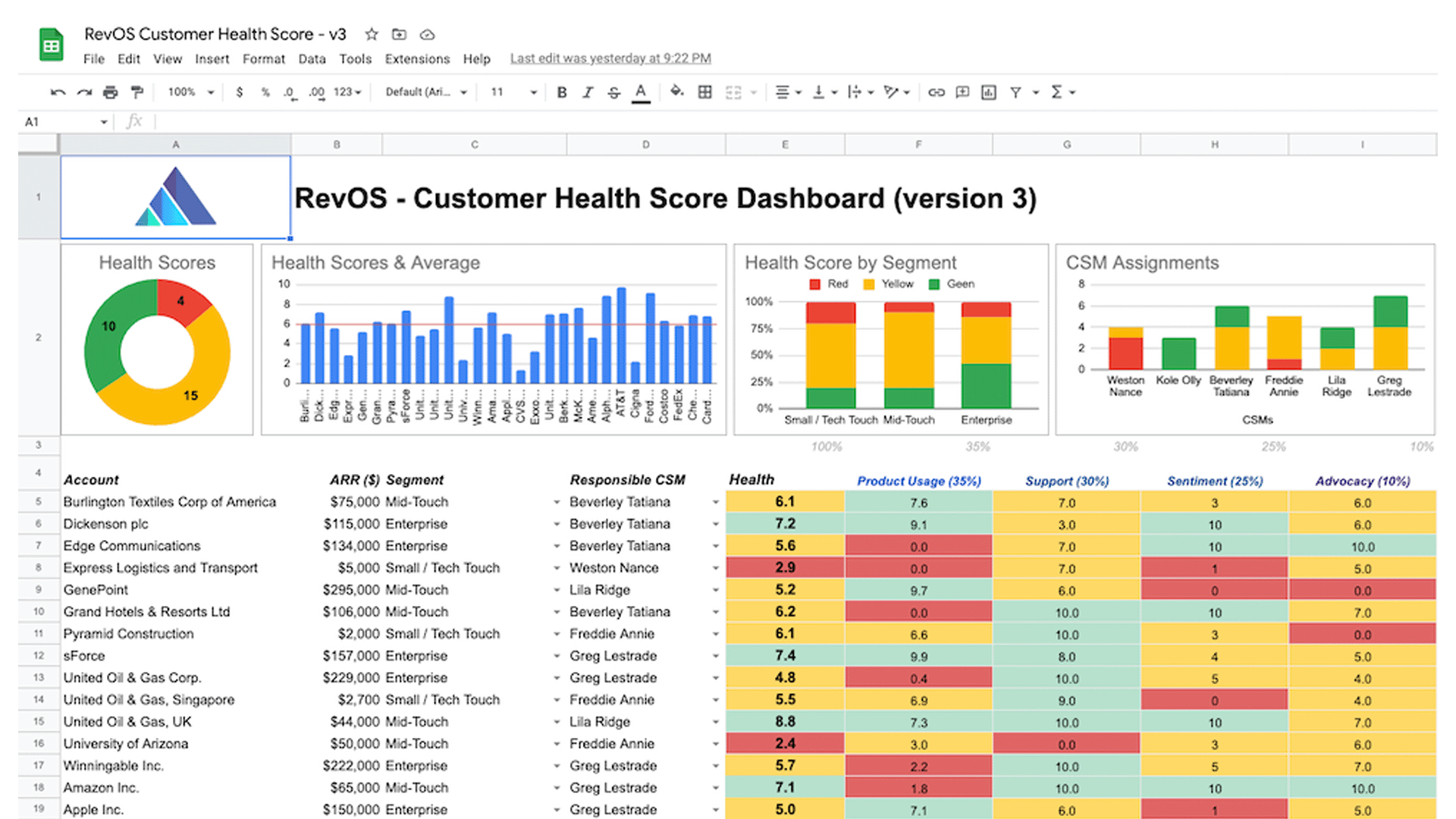 Download Free Customer Health Score Template
The Advanced key group of KPIs gathered for fine-grained forecasting and realistic planning.
The pipeline velocity is a result of indicating the speed of moving motion of your deals through the sales pipeline. The pipeline velocity can give a very good mechanism to test your plans for the next quarter or for next year.
The deal slippage is an advanced KPI and measure of how many deals are slipping in the quarter and it is also related to pipeline velocity.
Challenges with the traditional approach
The time for planning or comparing the plan is pretty intensive because the data is distributed across various systems. The main challenges for the companies:
Data Silos with 100+ SaaS on average
Proper tooling
Too much data - hard to separate signal from the noise
Even with a limited number of systems, the number of KPIs can be overwhelming
A medium-sized company on average use 100 plus software service products nowadays and we have 100 plus data silos typically. A spreadsheet is a great tool obviously. It's universally available, but unfortunately very hard to maintain. And CRM systems do provide some forecasting capabilities and analysis withreporting capabilities and if you have the basic metrics, it could work quite well.
Now hard to distinguish real data, important signals, or noisy and correlated data. It can be presented as a significant challenge, especially if we plan and do forecasts on their values, which are related to each other. Usually, companies do not analyze the whole picture only a narrow part of it, despite the fact that they are counting a lot of different KPIs. A key piece of related information gives us little value and it is challenging to separate the signal from the noise.
Modern trends and approaches: Predictive analytics with AI/ML Models
Maschine Learning is a branch of artificial intelligence (AI) and computer science that focuses on using data and algorithms to imitate how humans learn, gradually improving its accuracy.
Less tolerant to low data quality and/or missing data
Adopt and learn over time - capturing data in time dimension
Automatically select the most relevant criteria that affect predict the outcome
Automatically adjust formula (aka. model weights) based on the new data
AI and ML models are already used for sales forecasting but require dedicated BI and Data Science expertise.
RevOS.ai offers experience with sales forecasting and data science models as a predefined set of models. Our users can easily configure the critical KPIs and critical pieces of a model into a model that works for the business.
We build on a variety of different KPIs and sales forecasts that can be much faster than without a revenue agency look.
Predictive revenue intelligence
RevOS.ai is the first no-code AI platform for Sales, Marketing, and Customer Success.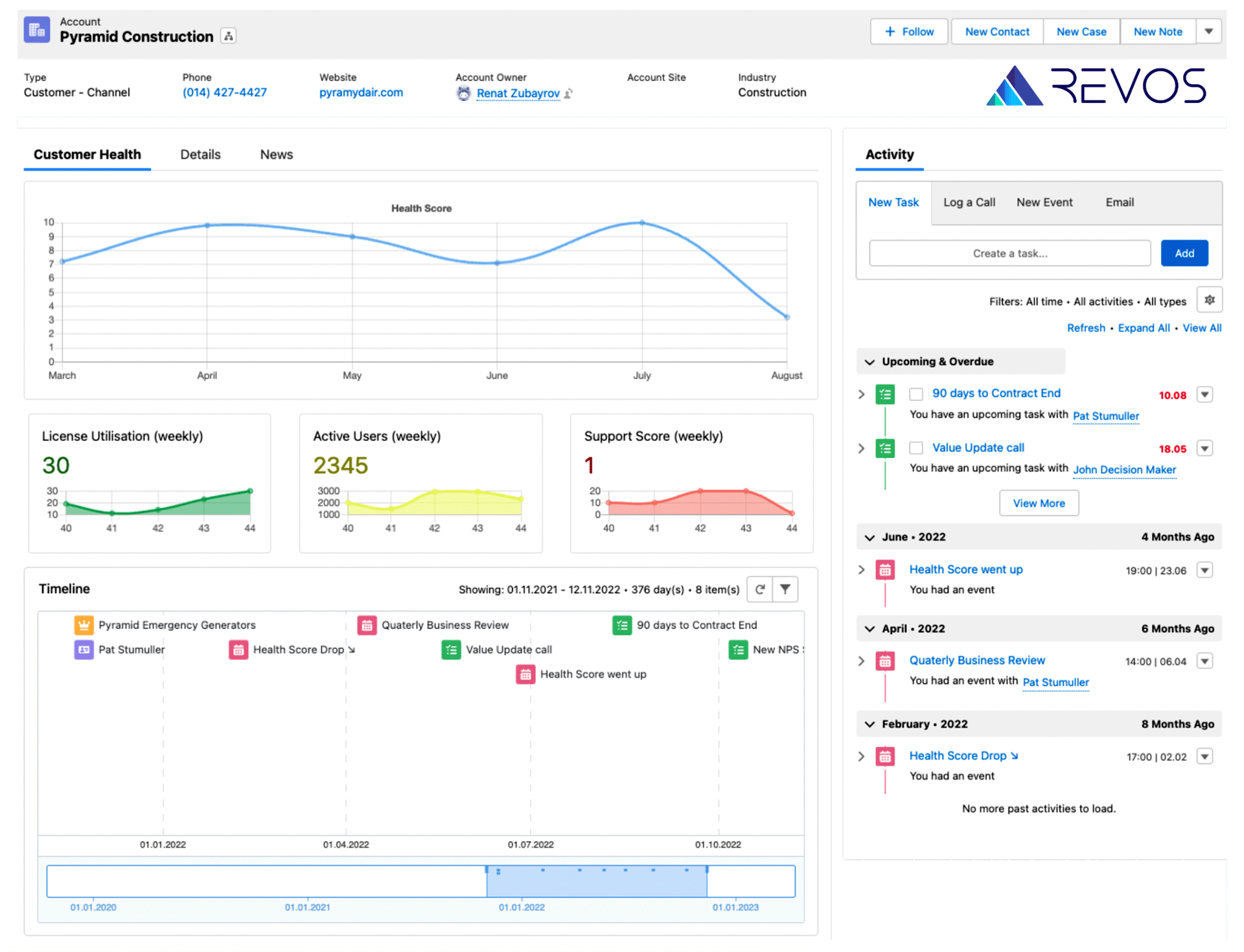 Simple and fast connectivity
 with connectors to your CRM, DWH, Product, and Support systems
Pre-defined AI models
 for customer, pipeline, and lead scoring. Sales and customer expansion forecasting and many more.
Engagement modules
 for deploying model predictions right into your CRM
Automated activity capture
to continuously train and improve your model(s)
Schedule your free demo today: https://calendly.com/revos/demo
← Go back to blog