Renat Zubayrov
Maximize ROI of Your Salesforce and ServiceNow
Several companies are making significant investments in platforms such as Salesforce or ServiceNow, but are they truly seeing the benefits? In our article, we will talk about valuable insights on which KPIs matter, how to measure platform success, and how to reduce churn with Michael Reiserer, former Head of Sales EASY SOFTWARE - a Battery Ventures company. Michael was leading the sales transformation projects after the acquisition by Battery Ventures rolling out the Salesforce platform within EASY.
Burning Money with Platforms
The average company in the US spends around $3.4 million on platforms like ServiceNow and Salesforce. This cost includes licenses, consulting services, and training, among other things. Salesforce has a market share of 23.8%, while ServiceNow has a market share of more than 50% for professional services ticket systems. Other popular CRM systems include SAP, Microsoft, and smaller cloud-native startups.
The Problem with KPIs
When it comes from different platforms, there's often a conflict between departments. Marketing teams may advocate for a platform like HubSpot, which offers marketing automation, CRM, and ticket systems. Meanwhile, Salesforce advocates claim that they offer a customer experience platform that can do everything. ServiceNow, on the other hand, claims to be able to handle a CRM system and much more. Platforms like Salesforce and ServiceNow are often closely tied to a company's KPIs, which can create problems. Each department may have its own set of KPIs, making it difficult to get a cohesive picture of the customer experience. When customers are passed from one department to another, they may feel frustrated and experience churn. This frustration can also extend to employees who are caught up in the struggle between departments.
The most common KPIs in the company are:
Marketing: Unique Visitors, Click-to-Open, Engagement Rate, Bounce-Rate
Sales: CLV, ARR, Lead-to-Opp, Win-Rate, Up- & Cross Sell Rate
Service: FirstCallResolution, Response-Time, SLA, NPS
Getting the Best ROI
To get the best return on investment out of platforms like Salesforce and ServiceNow, we recommend putting the customer at the center of your strategy. Instead of focusing on departmental KPIs, focus on customer experience KPIs. Make sure that the customer has a seamless experience, regardless of which department they're interacting with. In addition to focusing on the customer experience using the platform to its fullest potential. Make use of all the features and modules available, and invest in premium features when necessary. This investment will help you stay ahead of the competition and offer the best possible customer experience.
Artificial intelligence and customer health
Artificial intelligence plays a big role in this area. One of the interesting developments we see is in the use of machine learning models to improve data quality and work with data on a more semantic level. This approach allows for a more comprehensive understanding of customer health and can provide predictive health scoring.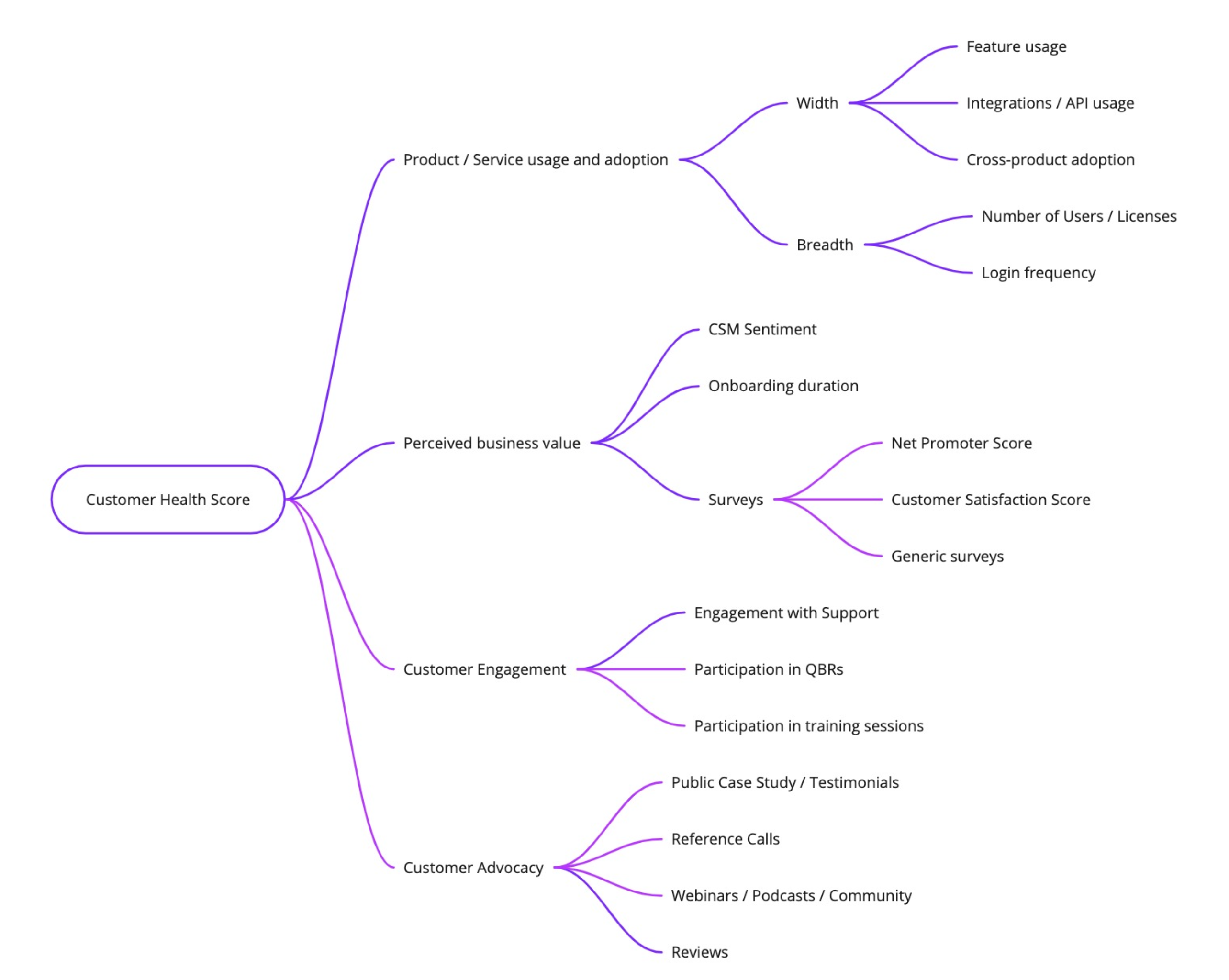 By using machine learning and AI algorithms, businesses can improve their understanding of customer needs, predict churn, and optimize customer experiences. But an integration is still a huge problem, even after 20 years of integration software.
RevOS has a comprehensive model that ensures that no detail is left out, and we have over 120 different connectors to help businesses integrate their systems seamlessly. Moreover, we believe that the responsibility for customer health should not be with the customer success department. Rather, it's the entire company's responsibility to ensure customer happiness. To achieve this, we collect a wide variety of different metrics from various sources and use them to calculate a more comprehensive customer health score. Finally, we shouldn't forget about customer advocacy. In today's world, where buying decisions are often based on references and reviews, customer advocacy plays a huge role in sales acceleration or prevention. By taking into account all of these factors, the RevOS approach provides a holistic view of customer health and helps businesses improve their customer experiences and reduce churn.
Conclusion
Platforms like Salesforce and ServiceNow require a significant investment, but they can deliver measurable value when used correctly. By focusing on the customer experience and making use of all the available features, companies can get the best return on investment out of these platforms. Don't get caught up in the battle between departments; instead, focus on the customer and use the platform to its fullest potential.
← Go back to blog