Andrew Rymarenko
Announcing Sales Assistant for HubSpot
'I love spending time in CRM' said no Sales or Customer Success executive ever. Despite the continuous efforts majority of CRMs are perceived as necessary evil and time spent manually updating data in CRM is just a necessary administrative overhead.
According to various surveys somewhere between 41% to 62% of the time is spent is not spent on actual proactive work but rather on data entry and updates.
However if not done right, low data quality and data hygiene will have a major effect on forecast accuracy, coaching and performance management as well as organizational development. That's why we decided to address this pain with our new product.
HubSpot and Slack integration is a new way to improve efficiency faster
HubSpot + Slack integration could transform your business, providing the means to increase revenue operations and improve many processes.
HubSpot is a popular CRM platform with a simple mission: to help companies maximize sales and grow better. And Slack is a program for messaging designed for use in the workplace.
Building relationships with customers is an important part in sales, marketing, and customer success workflow. In addition, companies infrequently use workflow automation because most people do not know about the benefits.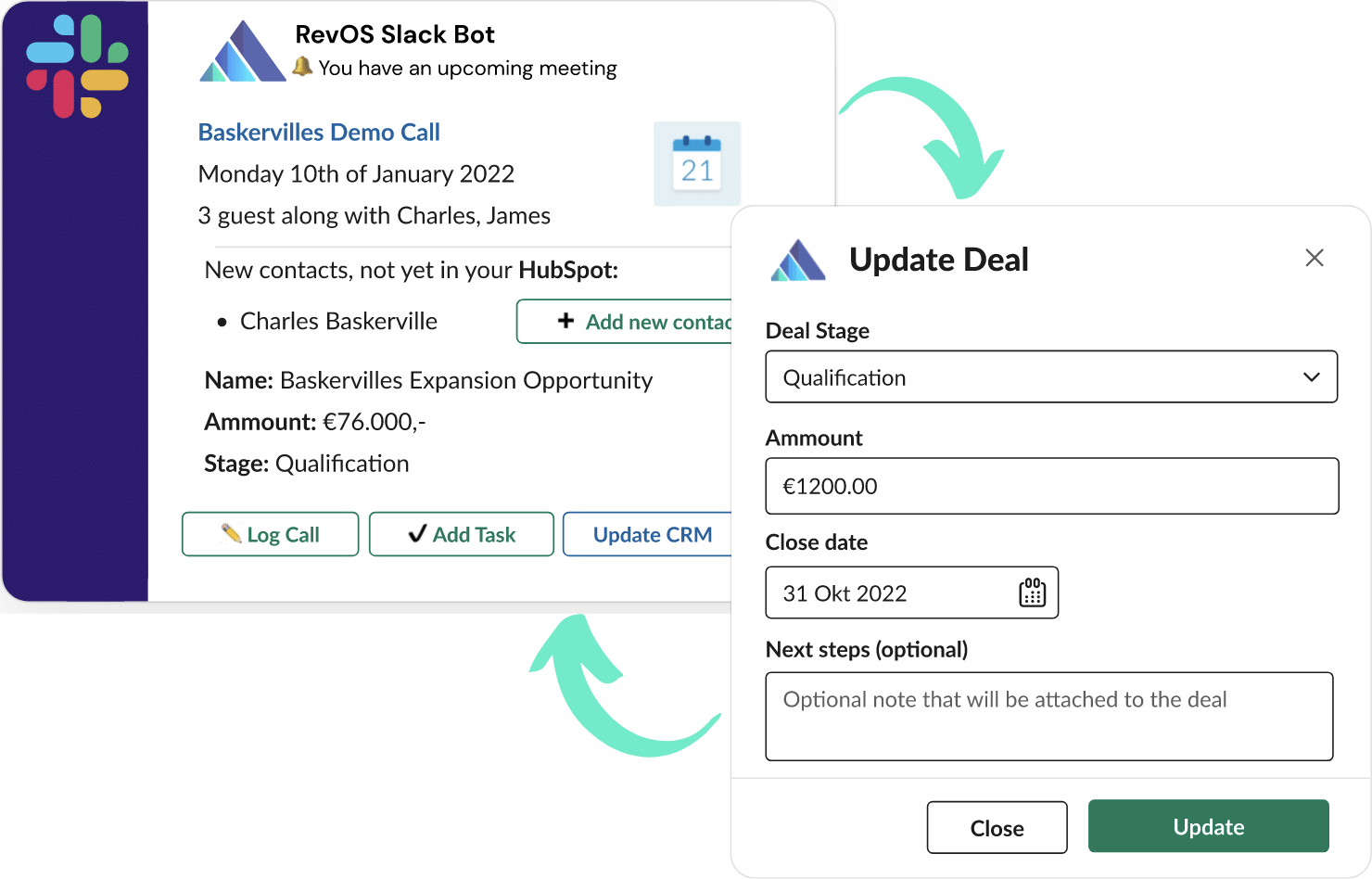 What is the key value of HubSpot and Slack integration?
HubSpot integration can increase workflows and sales productivity, while Slack integration is a powerful and convenient way to keep all your communications in one accessible app.  Both services together maximize productivity and save time.
Using RevOS sales assistant you save significant time on keeping your HubSpot data up to date.
Add new contacts
Create easily new contacts with your calendar. Deals and contacts created in one click in Slack will be automatically created as an account record in HubSpot. All the data will be relevant and updated without routine.
Log calls
Integration with HubSpot allow you to quickly log calls. You can keep notes and tasks all in the same place. You will save up to 4 hours every week through an online connection with Slack.
Create new tasks
You can now get HubSpot tasks, notifications, and slash commands within Slack. Create new tasks, assign them to your colleagues, and make collaboration on the opportunities easy.
Update deals
Quickly update deal data such as the milestones, budget, date of the contract, and next steps. Connect contacts to deals to track information on deal participants and decision-makers. You can set up a deal-based workflow in your HubSpot account.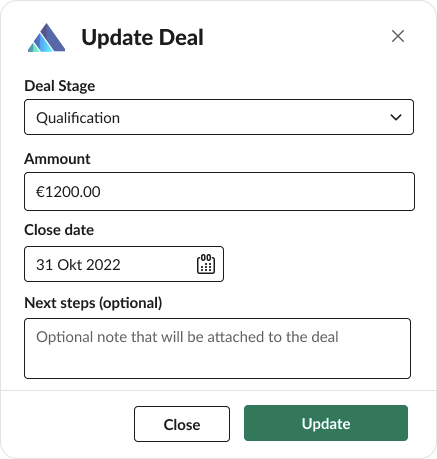 Benefits of a HubSpot and Slack Integration:
We launched our SlackBot with the first few users and the feedback was amazing, here is what one of our users said:
And time-saving is only the beginning, the smart automation that bring notifications & actions closer to the where work is done have further benefits:
Data hygiene for your CRM
- get better data for better data-driven decisions. Gather more data by lowering the burden of updating your HubSpot.
Never miss an important revenue signal
- react to all essential signals coming from customers and revenue teams. Build default playbooks with easy-to-use automation.
Save up to 4 hours weekly
- save time on HubSpot entry and updates - more time for proactive actions and customer empathy.
10x better than default slack integration
- RevOS Slack Bot is more flexible and configurable than default Slack-HubSpot integration.
Better adoption & less friction
- you do not need another tool to increase adoption of your revenue stack. Bring functionality closer to where users are.
Faster onboarding of new employees
- automatic notifications and suggestions on the next best action significantly shorten the onboarding time for new employees and improve process compliance.
You can also control and manage all features integrated into HubSpot workflows, increasing team productivity across the board. New integration capabilities like these help your business stay competitive.
Ready to dive in?
You can try RevOS Sales Assistant free of charge until the end of 2022.
← Go back to blog